FAQs
General FAQs:
All seating is unreserved.
If you are coming in a group of six or more we will seat you together. Depending on the size of your group you may be placed on more than one table.
Age Suitability
Age restrictions are stated on the show page when booking (please check these before booking tickets). Komedia Comedy Club is strictly 18+.
Q. What time do doors open for a show at Komedia?
A. Door time varies from show to show, this is displayed on the ticketing page.
Q. What time will the show finish?
A. We have a 11pm curfew for music shows, comedy shows tend to finish around 10.30pm and club nights close at 3am.
Q. Will food be available?
A. Food is available at most comedy shows in our main space, please see individual show page for more information. Our food and drink page can be found here.
Q. What payments are accepted on-site?
A.  All forms of payment, we take all credit cards including Amex and Google Pay and Apple Pay.
Q. What is the air supply system at your shows?
A. The venue has an air-intake system drawing fresh air in from the outside, passing through the pleated panel filter before entering the venue. The air extraction system removes existing air from both ends of the room, creating a constant airflow throughout the auditorium, we also have UV filers in operation in both our spaces . For more information on our new health & safety protocols, please see our Visit page.
FAQs relating to tickets:
Q. Why are several different prices available for some shows?
A. We offer some concessions on certain shows. See below if you are eligible.
Q. Who is eligible for a concession?
A. We offer concessions on certain shows (please check show page) for Students with valid NUS card, Emergency Services, Blue Light Cardholders, Social Workers, NHS Staff, Charity Workers, Blue Badge Holders, people in receipt of Pension Credit, Universal Credit, Income Support or Job Seekers allowance.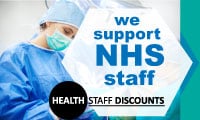 Q. Can I reserve a ticket and pay on the door?
A. All tickets must be paid for in advance and we cannot reserve tickets until the day of the show.
Q. What is your refund policy?
Once purchased your tickets cannot be exchanged nor money refunded.
Terms and conditions:

The management reserves the right, in combination with any other statements or directives which may be shown on the ticket or as displayed on the premises to:
a) refuse admission of the ticket holder to the premises
b) refuse entry of and use on the premises of any camera or any form of audio or visual equipment
c) request the ticket holder to leave the premises and to take any appropriate measure to ensure such a request.
d) delay or refuse entry of latecomers, depending on the nature of the performance
e) make any change whatsoever in the performance owing to any unforeseen or unavoidable cause
f) cancel the event or performance for reasons beyond its control without notice and without being liable to pay any person any compensation or damage whatsoever other than, at the Management's discretion, a possible percentage of the maximum refund to the ticket holder of the value of the ticket
g)It is the customers responsibility to check that all booking information on the email confirmation/ticket is correct
FAQs relating to online, in person and phone booking:
Q. Is your online booking secure?
A. Yes, our site operates via a secure connection and your details are not shared with anyone else when you book with Komedia.
Q. I booked online – when will I receive my tickets?
A. If you have booked online, you will receive an email confirmation that acts as your ticket. If you have a smartphone you can show it on this, or print this out and bring it with you to enter the venue . Alternatively you can simply write down the order reference number and bring this with you.
Q. I haven't received my email confirmation – what can I do?
A. Occasionally, due to certain email server's spam filters, an email confirmation may not be able to get through. Firstly check you spam and junk files to see if the email has been sent there, If you can still not find the email please contact the box office via email and they will be able to resend the email in a form that should get through and give you the order reference number for extra security.
Booking online:
Bookings online cost £1 per ticket (with a maximum £6).
Phone bookings:
The Box Office line, 01273 647100, is operational Tuesday-Saturday from12-5pm only.
Please note, at this time, we cannot take bookings in person. All tickets must be booked online or over the phone, using the details above.